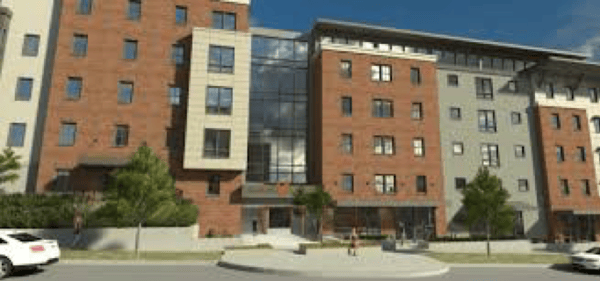 Eagles Landing Mixed Use Building
Eagles Landing is a mixed use building built for Champlain College in Burlington, VT. It includes housing for 314 students as well as retail stores. The building achieved Two Green Globes certified by The Green Building Initiative (www.thegbi.org). In order to achieve the Green Globe awards, energy efficiency of the building envelope was a priority. That's why using imbed plates with thermal breaks was important!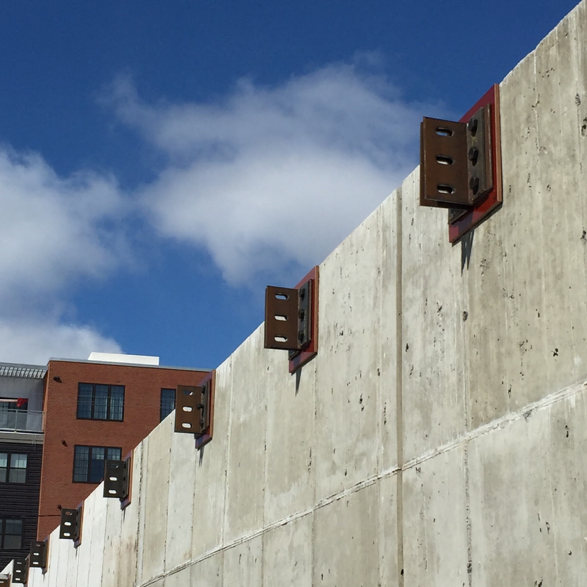 Example - Boltable Concrete imbed Plates with
Thermal Break Technology

However, just as important, as with every structural steel project and building, is to get the project completed on time and on or under budget. That's where patented EM-BOLT boltable steel imbed plates shine.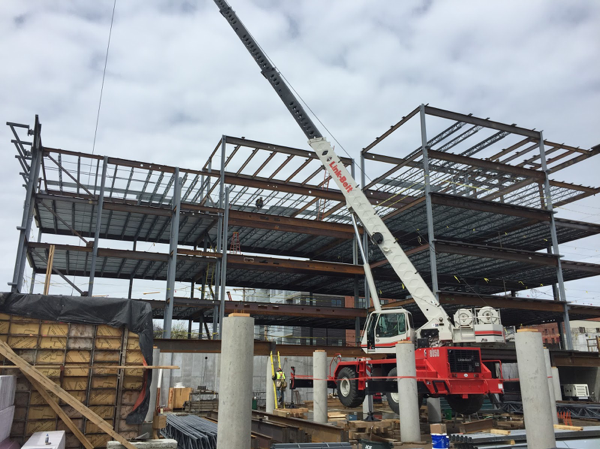 Eagles Landing Structural Steel Framework
The boltable EM-BOLT steel imbed plate saves considerable installation time vs standard steel imbed plates. Contractors report 80-100 man-hours saved on average-size commercial projects. This time savings can translate into 2 - 3 weeks of compressed construction schedule.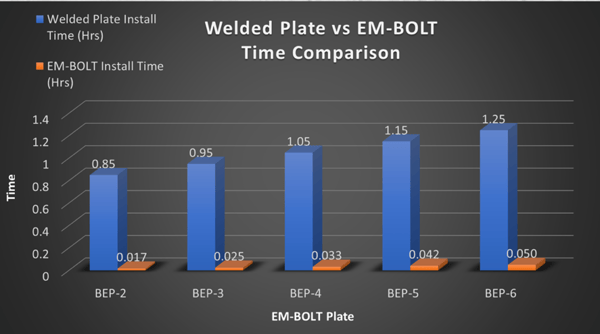 Reported Time Comparison - Welded Embed Plates vs. EM-BOLT Boltable Embed Plates
Additionally, for most projects, the EM-BOLT boltable imbed plates are less expensive than standard imbed plates as well.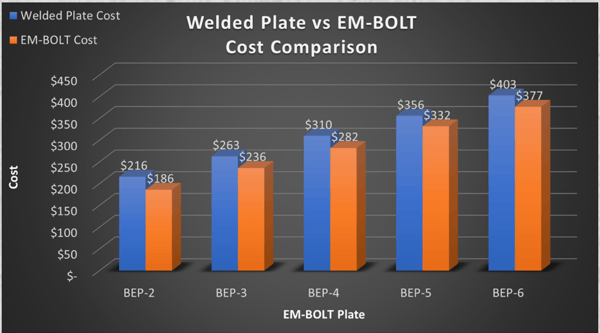 Contractor Procurement Cost Comparison - Welded Embed Plates Vs. EM-BOLT Boltable Imbed Plates
Across the Eagles Landing project, 288 EM-BOLT steel imbed plates were used for the approximately 30,000 SF structure.
For the project as a whole, the results are impressive:
Time savings on Eagles Landing = 131 Hrs

Cost savings on Eagles Landing = $4,095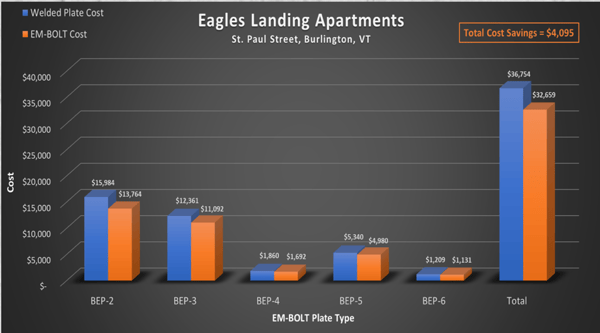 Cost by imbed plate size, standard imbed plates vs.
Boltable Imbed Plates and total costs for each imbed plate type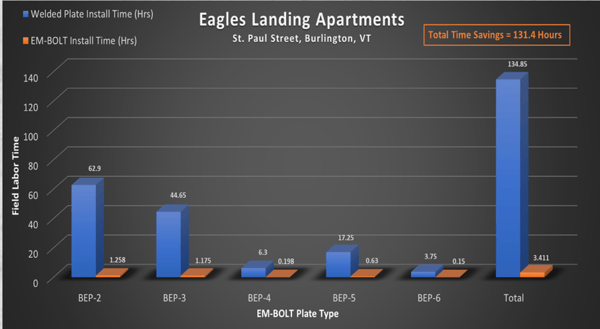 Labor savings by imbed plate size as well as total project labor savings
The patented EM-BOLT boltable imbed plate frees your welding resources to do more valuable work.
"The speed and efficiency of installing EM-BOLT in the formwork greatly reduces the field labor compared to field welded imbed plates, which allows us to stay on schedule with large commercial projects."
Shawn Robtoy
Field Operations Manager
In addition to the recognized purchase and install cost savings, EM-BOLT steel imbed plates reduce on-site construction risks.
Onsite welding risks are eliminated

Welding fumes and flash are minimized

Risks associated with ladders in the elements are minimized

All welding is done in a controlled environment – quality is not compromised by inclement weather
EM-BOLT steel imbed plates also provide structural engineering design advantages over traditional steel imbed plates.
Structural Advantages

EM-BOLT offers direct load transfer to each anchor bolt – no localized stresses in plate

More consistent connection – not relying on quality of weld

Full-scale load tested

to sustains a working load of almost 600% of the maximum load required by the 2015 International Building Code and Appendix D of ACI-318.



Interested in learning more about how EM-BOLT boltable imbed plates save construction costs and time? Take advantage of the Guide below!
Would you like help with your concrete embedded plate engineering calculations? Reach out to us below.
Embedded plate Revit drawings of our standard series of products are also available, for Revit drawings go here.
To learn more about the advantages of EM-BOLT Boltable Embedded Plates, go here.
To learn more about our Concrete Slab Thermal Break solutions, go here.