Below is an example of the typical embed plate used today to join walls and concrete slabs. This example is a concrete wall with a flat top surface.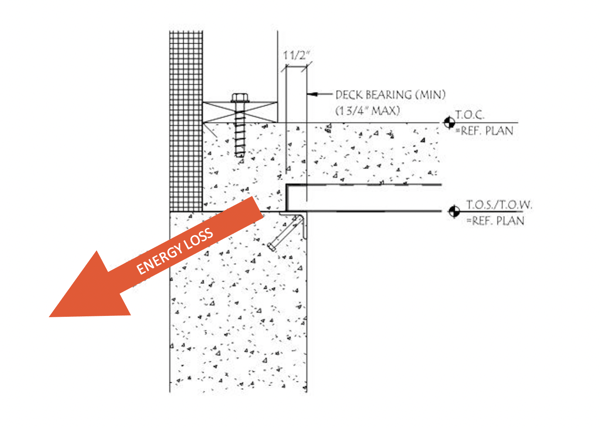 Traditional Concrete Slab to Concrete Wall Embed Plate Joint
In the example above, a traditional concrete slab construction, the concrete slab form edge is welded to the top surface of the embed plate. This creates a direct thermal connection between the concrete wall and concrete slab, causing energy loss. The cost of welding and inspection is additional cost which is passed to the Owner, increasing the overall cost of the project. See Welded Steel Embedment Plates vs. EM-BOLT Boltable Steel Embedment Plates Cost Comparison - Which is the Better Value?.
Here's How the EM-BOLT Concrete Slab Thermal Break Technology Works.
The EM-BOLT concrete slab embed plate (TSS - Thermal Slab Shelf) is connected to the concrete forms using a temporary plastic bracket that is screwed to the concrete form plywood.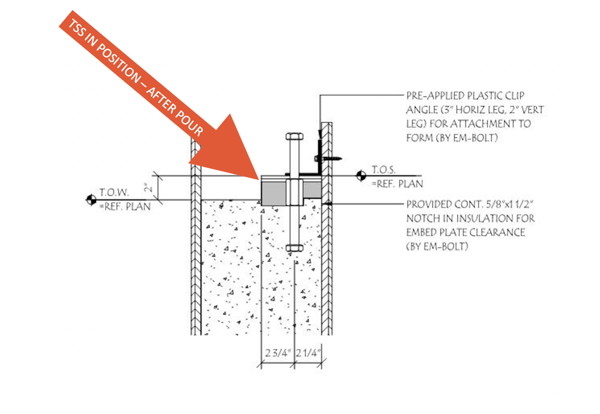 TSS - Thermal Slab Shelf - Concrete Slab Thermal Break - After Concrete Pour


The concrete is poured up to the top of wall elevation as noted on the structural plans. The concrete embed plate bolts become embedded within the concrete wall and provides direct load transfer to the concrete.
This allows for standard rigid insulation to be installed on top of the wall to continue the thermal break.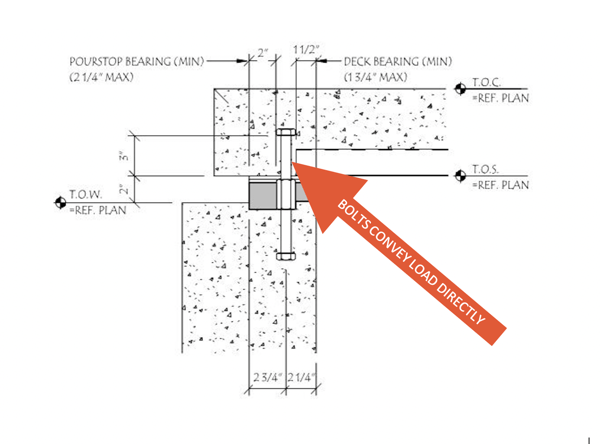 TSS - Thermal Slab Shelf - Loads Carried Directly via Bolts - Allowing Thermal Break at the Concrete Wall to Concrete Slab Joint
The concrete slab decking and pour stop bears upon the embed plate and is attached by either welding or powder actuated fasteners per standard practice.
Bolts are threaded into the embed plate which then become embedded in the concrete slab, creating a structurally sound and predictable load path from the slab to the concrete wall capable of transmitting both vertical and lateral loads.
With this configuration, nearly all of the thermal bridging is eliminated, making it easier for buildings to meet or exceed current and possibly future codes with respect to thermally broken concrete slab to wall connection design.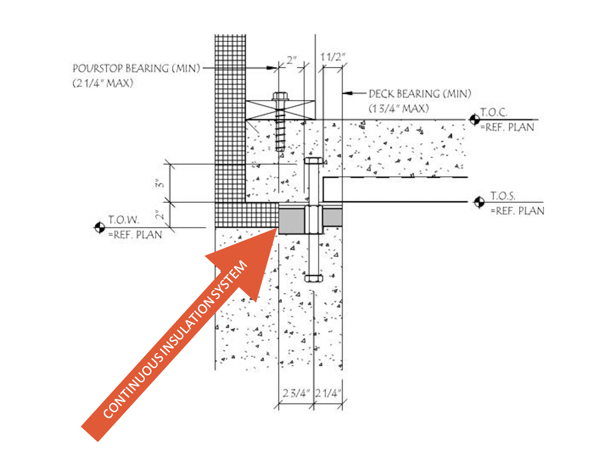 Concrete Slab Thermal Break with Continuous Building Envelope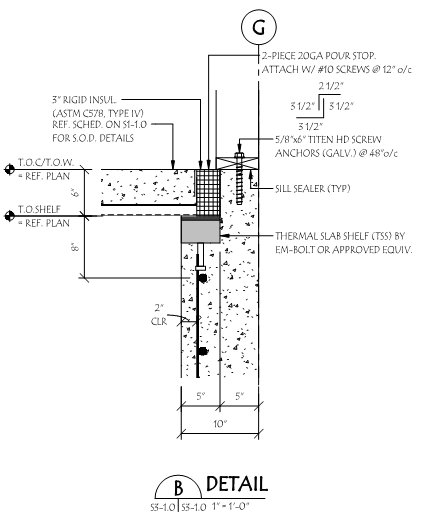 EM-BOLT Thermal Slab Shelf (TSS) System with Formed Slab Shelf
Interested in learning more about the cost savings benefits of EM-BOLT boltable embed plates? Get the guide here!