Bayberry Commons took an innovative architectural approach and has created a rental property with the feel of a small village.
About the Project
The building architecture appears to the outside as a row of quaint townhouses, all facing a village square.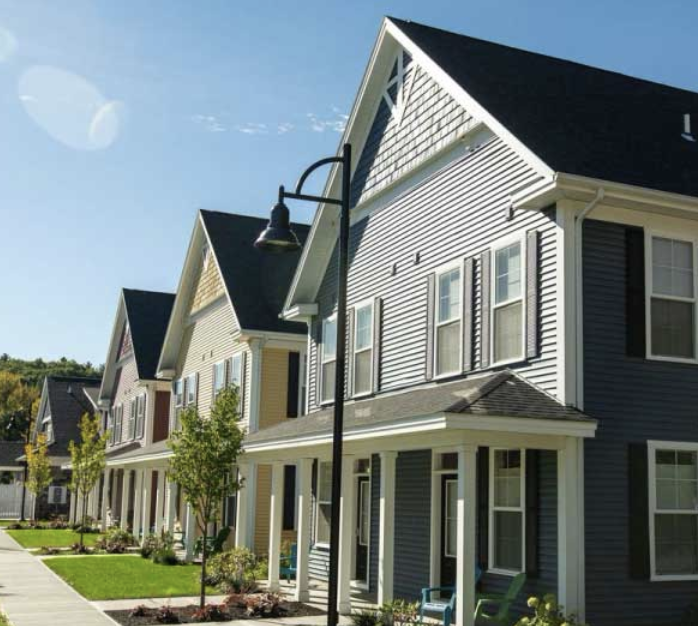 Images Courtesy Bayberry Commons
The square provides a common green space with community gardens and a grilling pavilion. Supplementing the gardens where residents can grow their own food are apple trees, blueberry, blackberry and raspberry bushes where tenants can pick their own fruit.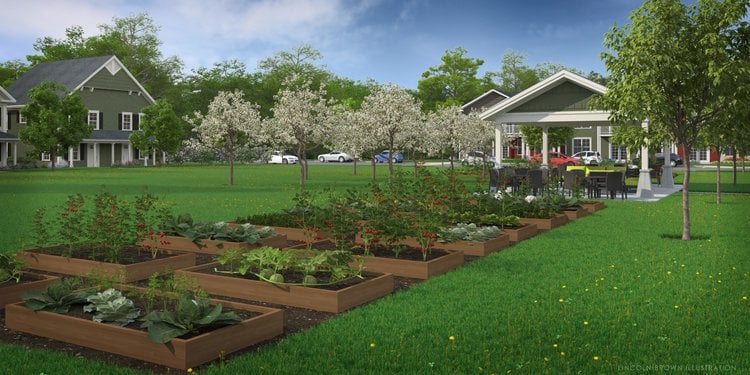 The backs of the buildings take advantage of the sloping hillside and the units are structured so that every unit has an exterior patio on the ground floor and porches on the upper floors. Each building actually contains 22 individual 1 or 2 bedroom units complete with high-end amenities such as 9' ceilings, granite countertops stainless appliances, beautiful hand-picked finishes, washers and dryers and are built with state of the art materials and with peak energy efficiency in mind.

The old-fashioned streets lined with wide sidewalks and are equipped with energy saving LED lighting.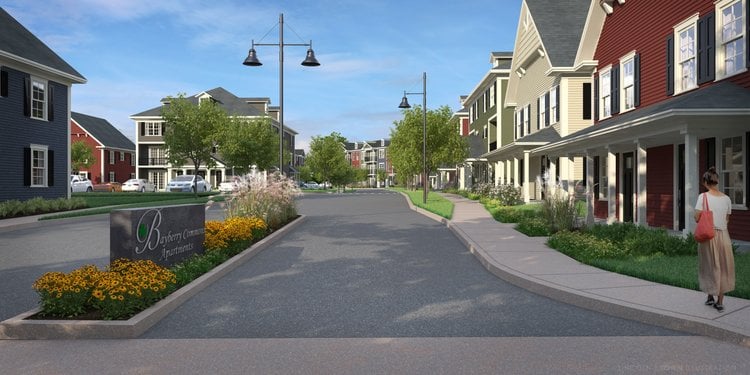 There are 232 rental units overall with 15 percent of units designated "inclusionary," or affordable under city requirements.
This safe, well-lit, walkable community is designed to foster neighborly interactions and is adjacent to a 70 acre forest with walking trails and includes a path to the nearby Winooski River for fishing or kayaking. There's of course a large community center with a game room, fitness center, outdoor swimming pool and commercial kitchen, allowing residents to host parties there and underground parking and storage is available.
About the Team:
Owner: SD Ireland
General Contractor: SD Ireland
Architect: Michael Dugan, AIA
Concrete Contractor: SD Ireland
Steel Contractor: Jeffords Steel & Engineering
EM-BOLT Embed Plate Technologies Used
To speed construction and help to control project costs, EM-BOLT boltable embed plates were specified in the structural design in lieu of traditional concrete weld plates.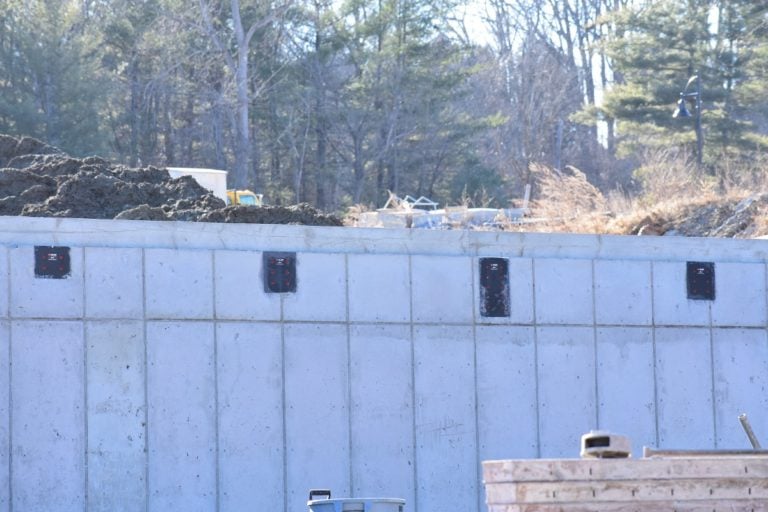 EM-BOLT Boltable embed plates free scarce welding resources to perform other, more valuable work in structural steel construction projects. The boltable design makes steel-to-concrete joints easier and faster, reducing project costs and timeline. Less welding means fewer weather delays and a safer job-site.
Testimonials:
"The speed and efficiency of installing EM-BOLT embed plates in the formwork greatly reduces the field labor compared to field welded weld plates, which allows us to stay on schedule with large commercial projects."

Shawn Robtoy

Field Operations Manager

SD Ireland Concrete