Energy costs continue to be a factor in building design and construction with increasing pressure from consumers and building owners on architects and engineers to deliver more comfortable, energy efficient spaces. The construction industry is innovating to deliver what the market wants, in ways that the market can sustain from a cost standpoint.. Architects and structural engineers look to thermal breaks to improve building envelope thermal performance. The challenge as structural engineers is to incorporate the concept of thermal breaks while maintaining the structural design requirements of the building codes.
A thermal break is a component of construction that has low thermal conductivity. Thermal breaks can also be referred to as thermal barriers. These elements are used to assist in reducing the flow of thermal energy between conductive materials, and therefore are a suitable method for keeping heat in (cold climates) and heat out (warm climates) saving on heating and cooling costs, respectively. A thermally conductive material would allow heat to flow through it in any direction. Common thermally conductive materials in the building construction industry include: steel, concrete and aluminum. The addition of a thermal break increases the overall thermal resistance of an object or assembly. More specifically, thermal breaks can be a load-bearing insulation system for steel-to-steel connections, steel-to concrete connections and the connections of projected reinforced concrete balconies.
The most important aspect of thermal breaks in engineering and construction is the ability to reduce energy loss in the infrastructure (heating or cooling). Examples of areas which experience noticeable energy loss include areas near the windows, doors, and penetrations through the building envelope of buildings where the areas become warmer or cooler in comparison to the controlled and conditioned internal environment of the building. Thermal breaks in these areas of the building can reduce the heat loss through the walls. The practice of using thermal breaks to keep heat in, our heat out in warmer climates, can reduce the amount of energy needed to keep a building a specific temperature, and therefore the costs of heating or cooling. Not to mention comfort for the people using the building would be increased.
Thermal breaks can be used for a variety of structural applications such as,
Reinforced Concrete Structures
Between external balcony slab and the internal conditioned slab.
Between steel-framed appendages (balconies, roofs, etc) and the internal conditioned structure.
Structural Steel Structures
Between steel-to steel connections that penetrate the building envelope.
Between steel-to-concrete connections that penetrate the building envelope.
Steel is one of the most often used highly conductive materials in the construction and engineering industry. Implementing thermally broken connections at steel connections or where steel connects to concrete is highly effective in reducing the energy loss through these connection points.
Structural engineers are commonly being asked to incorporate thermal breaks into their design and this can be a challenge while accounting for the structural loads that need to be transferred through the connection. Steel-to-steel thermally broken connection details are fairly commonplace in the design and construction industry. However, providing a thermally broken connection between steel-to-concrete has been a challenge…..until now.
The patented EM-BOLT boltable embed plate with integrated Armatherm thermal break material is an efficient and simple design that provides a thermally broken connection when anchoring steel to concrete. It's simplistic design also provides a high level of constructibility in the field that is both accepted and desired by both concrete and steel contractors.
Learn more about EM-BOLTs' advanced concrete to structural steel advanced thermal break solutions here!
EXAMPLES OF THERMAL AND NON-THERMAL BREAK STRUCTURAL JOINTS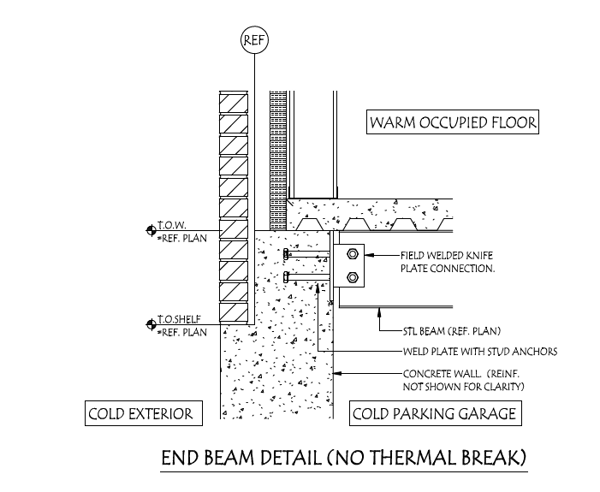 Thermal Break Example - End Beam Detail - No Thermal Break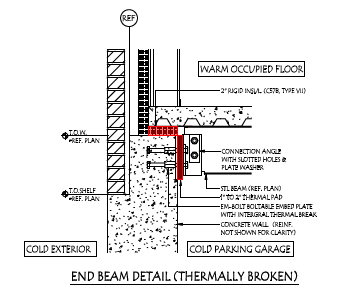 Thermal Break Example - End Beam Detail with Thermal Break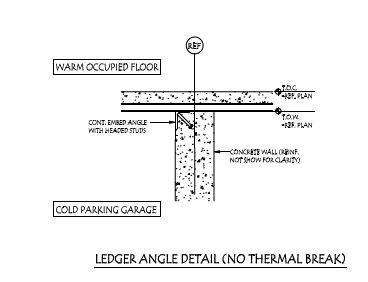 Thermal Break Example - Ledger Angle Detail - No Thermal Break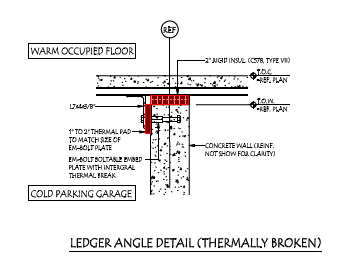 Thermal Break Example - Ledger Angle Detail with Thermal Break
When there is no thermal break, heat from the interior space is allowed to run through to the exterior space, taking heat out of the interior. When the thermal break is put into place, the heat which escapes through the steel beam is reduced due to the buffer. This reduces energy loss and reduces the potential of condensation on the warm steel.
As energy becomes more expensive and building codes respond by being more restrictive, it's important for engineers to understand technologies such as Thermal Breaks that can help building designers to meet the building goals of comfort and energy efficiency.
EM-BOLT continues to develop innovative structural engineering construction products that solve these types of problems such as our EM-BOLT Embed Plate with integrated thermal break technology.
Interested in learning more about how EM-BOLT boltable embed plates save construction costs and time? Take advantage of the Guide below!
Would you like help with your concrete embedded plate engineering calculations? Reach out to us below.
Embedded plate Revit drawings of our standard series of products are also available, for Revit drawings go here.
To learn more about the advantages of EM-BOLT Boltable Embedded Plates, go here.
To learn more about our Concrete Slab Thermal Break solutions, go here.