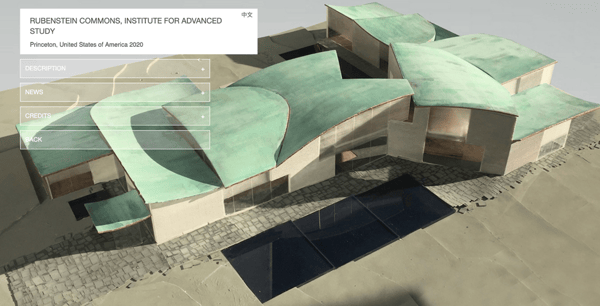 Image Courtesy Steven Holl Architects
The Rubenstein Commons on the Institute for Advanced Study campus at Princeton University is a challenging steel and precast concrete construction project on many levels. You can click through these images on the architect's (Steven Holl) website to see the complexity of the design.
In order to achieve the designer's vision, the building was constructed of 10" thick solid precast concrete using in most cases double-mat steel reinforcement grids. There were 60+ precast concrete panels with over 1,800 footing to panel connections with a tolerance of 5/16" or less.
In order to meet the energy management goals of the building, concrete thermal break technology needed to be implemented into the design. Armatherm, a provider of structural thermal break products for the construction industry, approached EM-BOLT about supporting this project and together we developed our integrated boltable embed plate with concrete thermal break technology.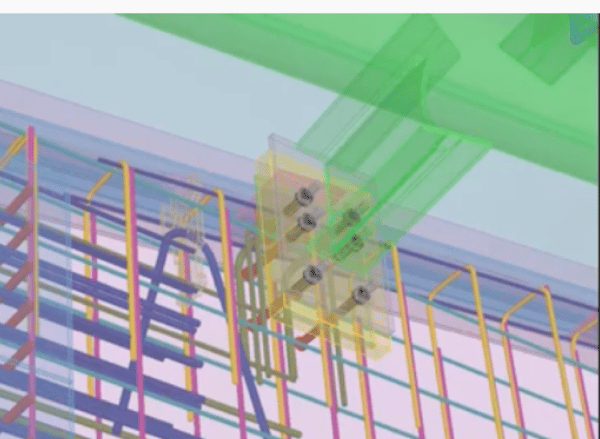 BIM Drawing of Integrated EM-BOLT Embed Plate with Steel-to-Concrete Thermal Break Technology - Courtesy Tekla Precast Concrete Design software
The drone video here shows the complexity of the concrete work. Clearly anything that would make this project an easier structural assembly would be welcome! And EM-BOLT did just that.
---
---
---
"Embolt provided a unique product that met our needs and exceeded our expectations.
EM-BOLT's flexibility and creative approach to handling the relentless design challenges of this project was critical to our success."
Matt Wert, CM-BIM
Virtual Design & Construction Manager
W.S. Cumby, Inc.
THE PATENTED EM-BOLT EMBED PLATE: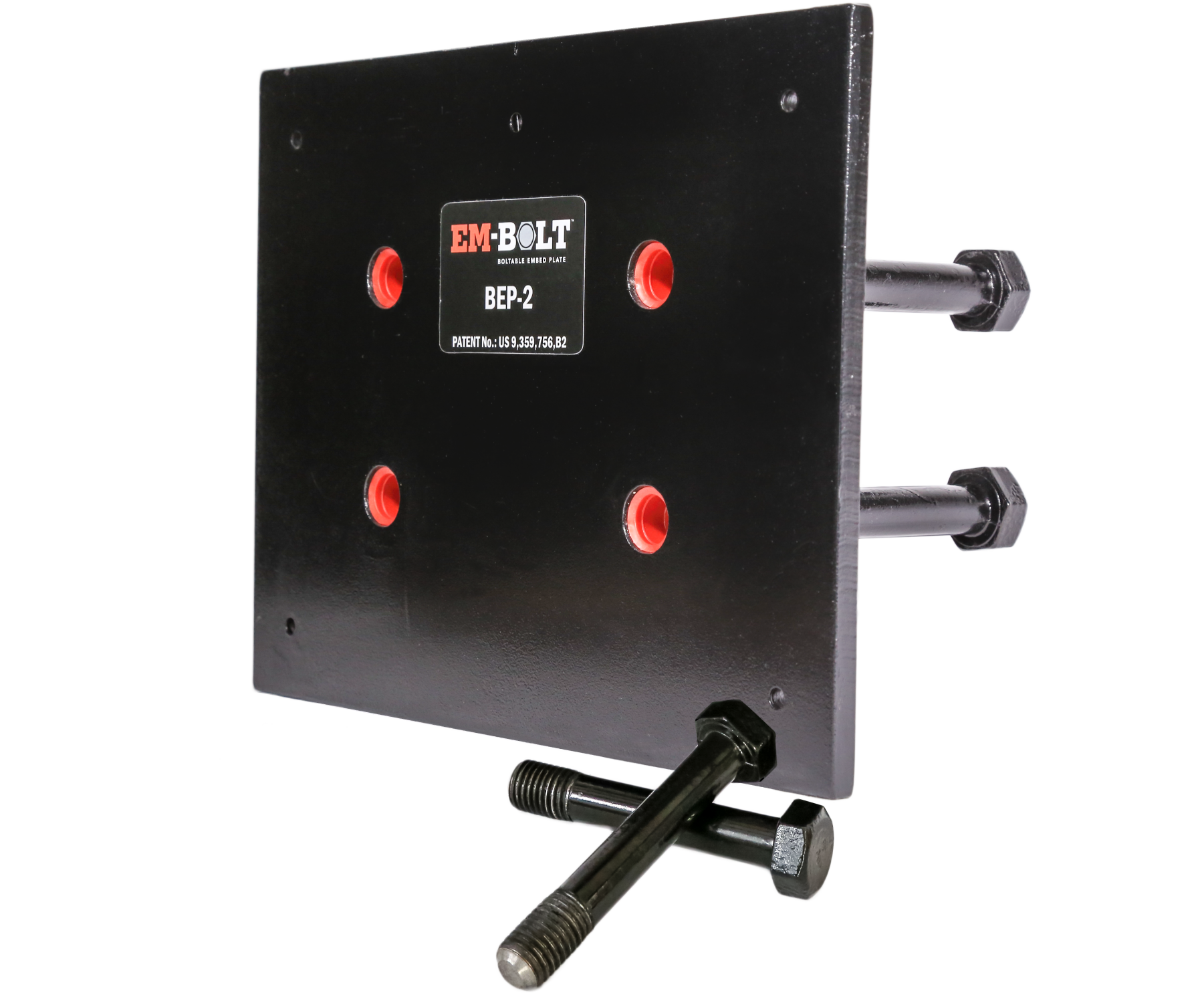 THE PATENTED EM-BOLT EMBED PLATE WITH INTEGRATED THERMAL BREAK TECHNOLOGY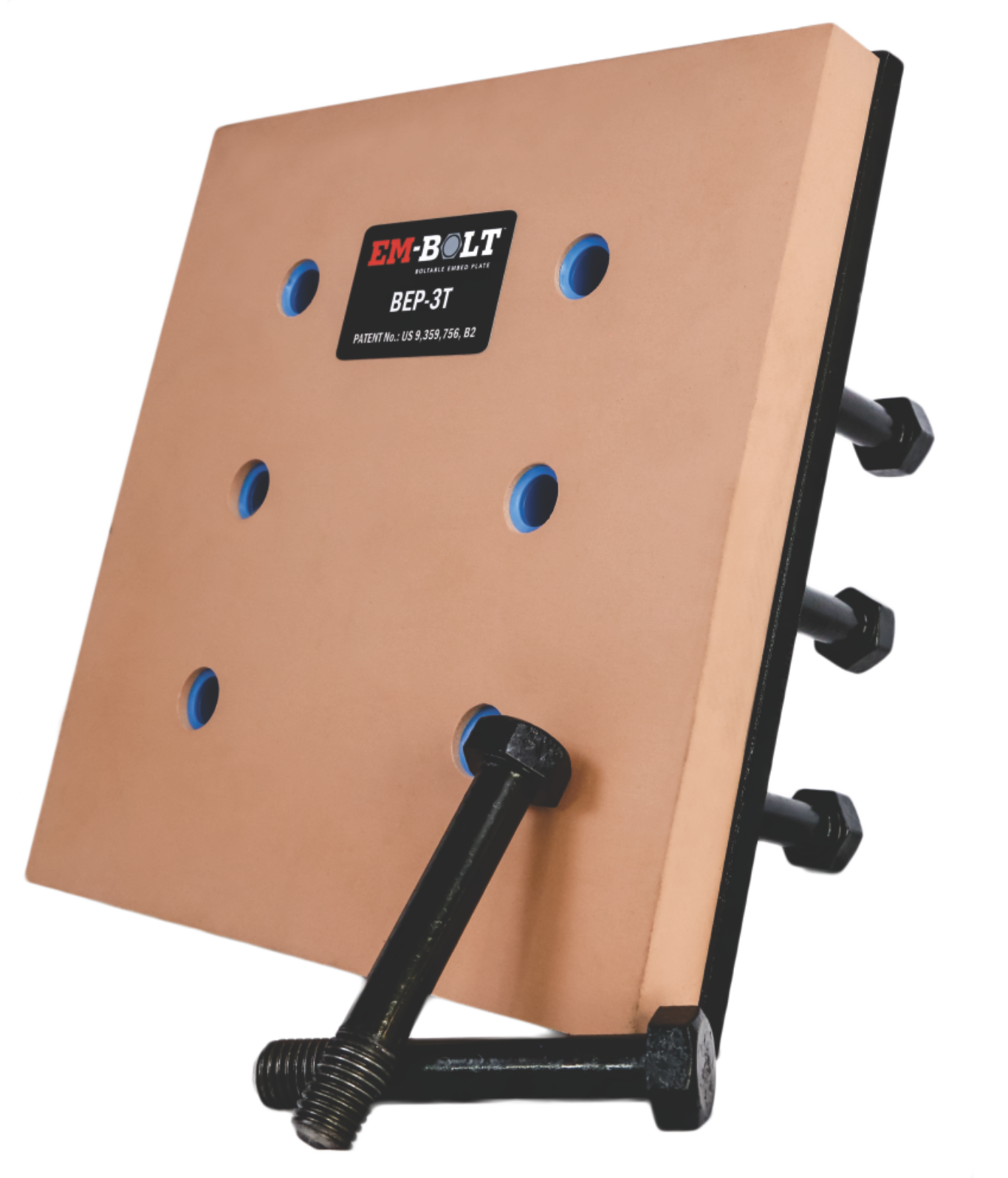 EMBED PLATE ENGINEERING CALCULATION AND DETAIL DESIGN SUPPORT FOR CONCRETE THERMAL BREAK TECHNOLOGY

EMBED PLATE ENGINEERING CALCULATION AND DETAIL DESIGN SUPPORT FOR CONCRETE THERMAL BREAK TECHNOLOGY
EM-BOLT provided PE stamped embed plate design calculations based upon beam loads provided by the SER. Due to the complex geometries of the steel structure, EM-BOLT also developed detailed PE stamped drawings for all embed plates used on this project. The embed plates used thermal break technology to meet the project goals while still lowering overall construction labor costs.

Example of Detailed PE Stamped Embed Plate Drawings
PICTURES OF THE EM-BOLT PATENTED EMBED PLATES IN PLACE SHOWING CONCRETE THERMAL BREAKS
The patented EM-BOLT boltable embed plates were cast into the tilt-up concrete walls, enabling the use of concrete thermal break technology while making the wall to steel structure interface far easier to connect. Many of these embed plates are quite high off the floor, making the traditional joining method of welding the concrete embed plates to the steel beams cumbersome and time consuming. Welded embed plate inspection can also be a cost driver for Owners.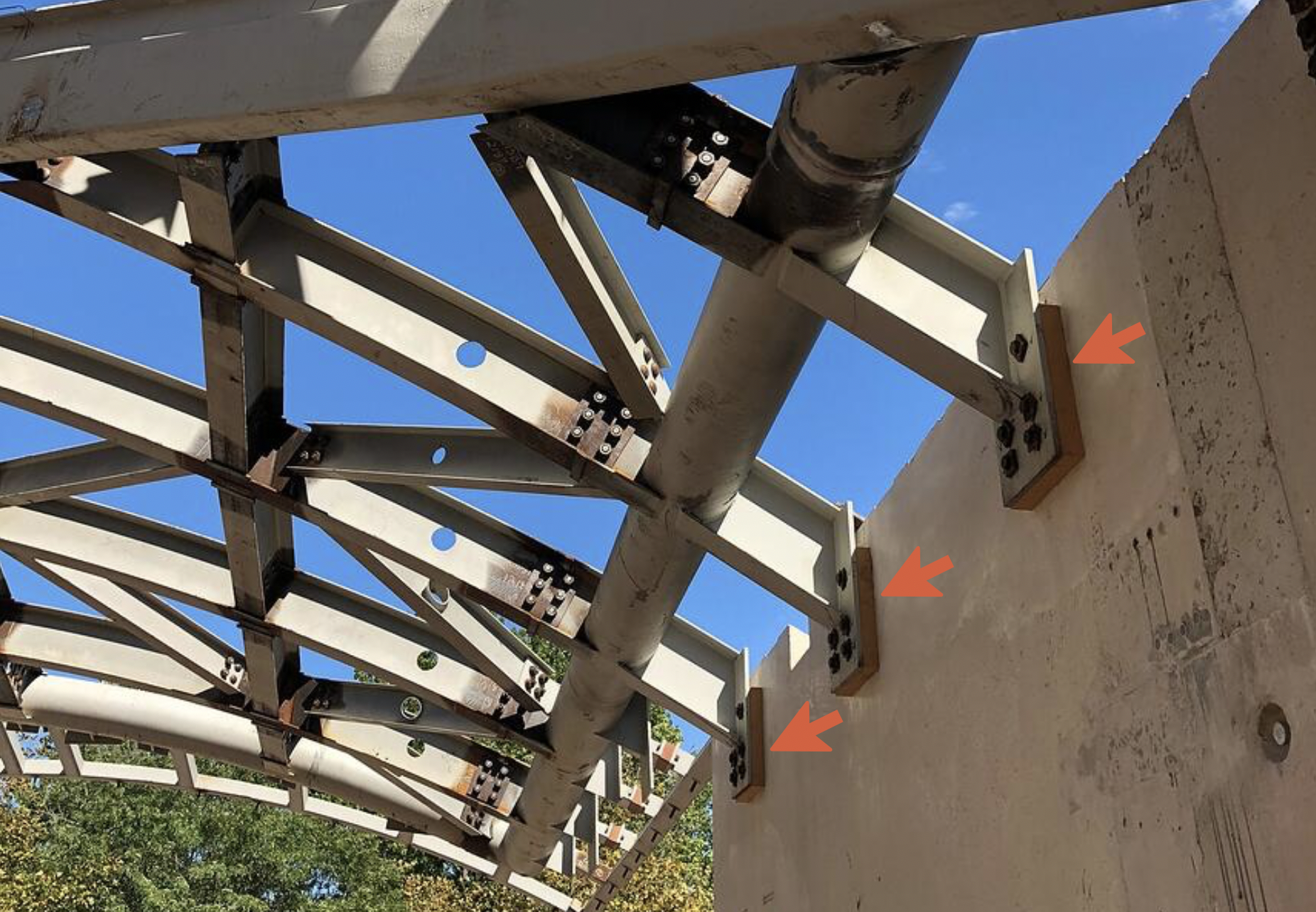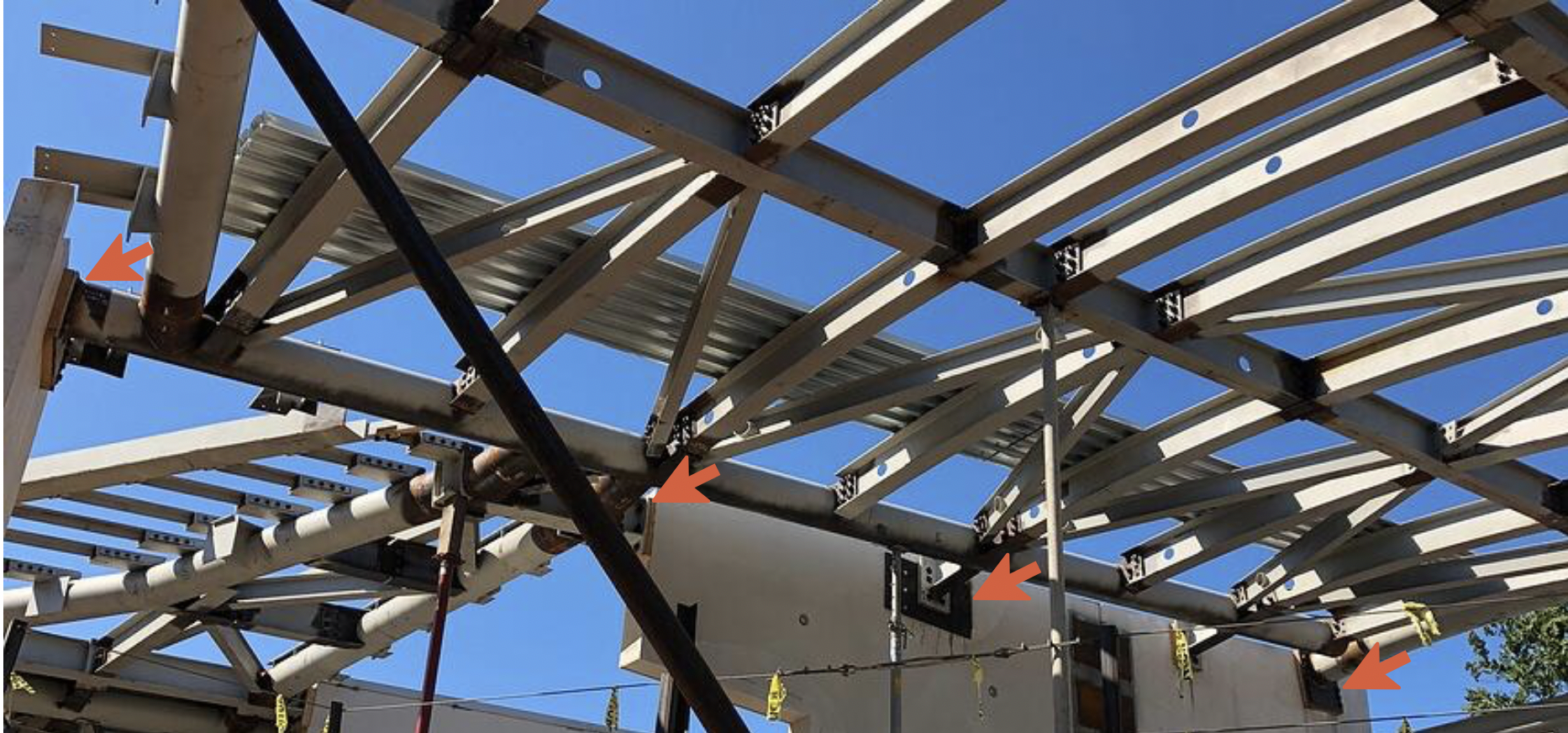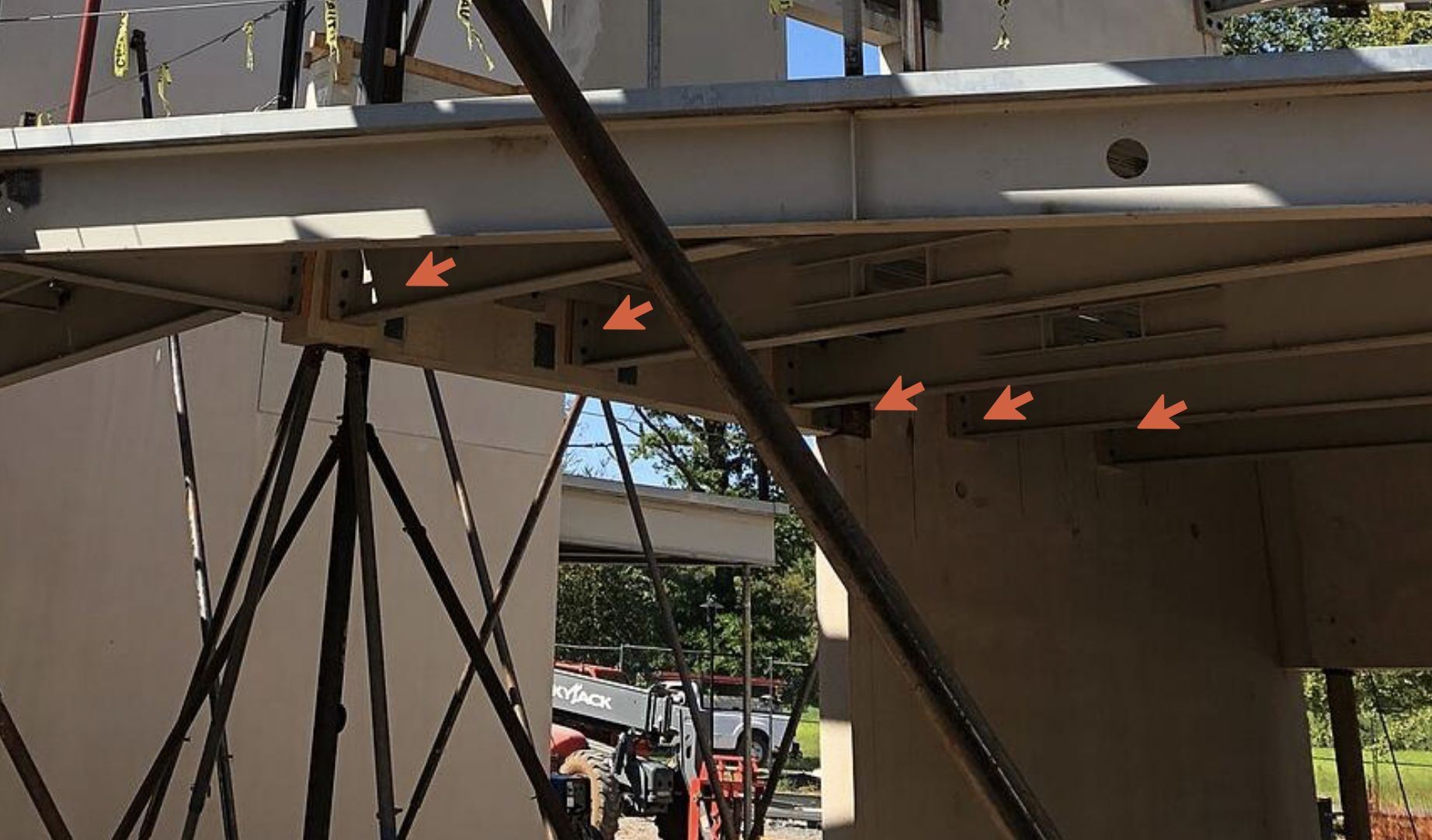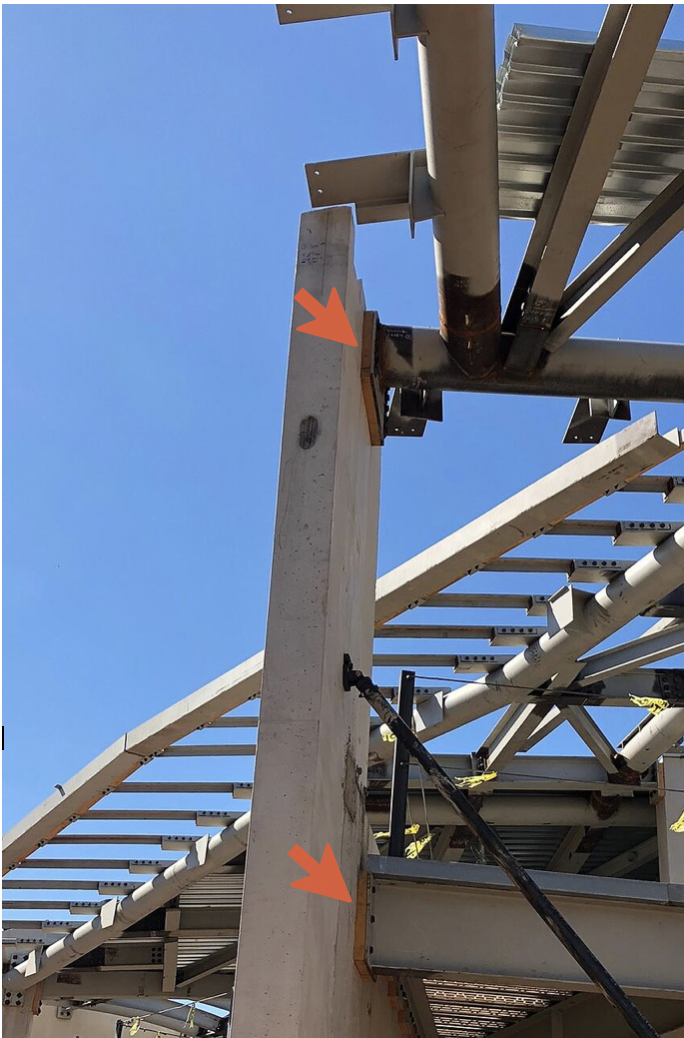 The resulting product was well received on site and performed as designed, which is a testament to the adaptability of the EM-BOLT embed plate for even the most complex steel detailing and erection challenges.
Interested in learning more about how EM-BOLT boltable embed plates save construction costs and time? Take advantage of the Guide below!
Embedded plate Revit drawings of our standard series of products are also available, for Revit drawings go here.
To learn more about the advantages of EM-BOLT Boltable Embedded Plates, go here.
To learn more about our Concrete Slab Thermal Break solutions, go here.