Cambrian Rise Development
Image Courtesy of EF Farrell Real Estate
Cambrian Rise is a large scale development with the goal of improving sustainability, diversity and a healthy lifestyle in the area. The "first comprehensive development of its kind in Vermont, Cambrian Rise is where sustainable living, community engagement, and business innovation come together as a beacon of possibility for Burlington and beyond."
About the Project:
A goal of this development is to provide options for affordable housing in the area. Two of the buildings in the development, Laurentide and Juniper House are specifically designated to be affordable with rents that will be in the $1,000 per month range, $500 per month less than the market average in the area. Laurentide has 76 units and Juniper House has 60 and 12 units in Laurentide are designated for families that are homeless or at risk of homelessness.
Buildings slated for affordable housing by definition must be built affordably, and advanced construction technologies that lower building construction costs and shorten project timelines help to make projects like this possible.
A key part of being sustainable is of course minimizing energy consumption. An often overlooked advantage of lowering energy usage in housing developments is that it lowers the overall cost of living for building occupants.
For people who are struggling to find housing in more expensive housing markets, reducing their utility bills, and freeing up this money for other important budget concerns, can make a meaningful difference in their lives.

Rendering of Juniper House - A Sustainable, Affordable Housing Project - Designed with Thermally Broken Structural Steel-to-Concrete Connection Technology
Image Courtesy Cathedral Square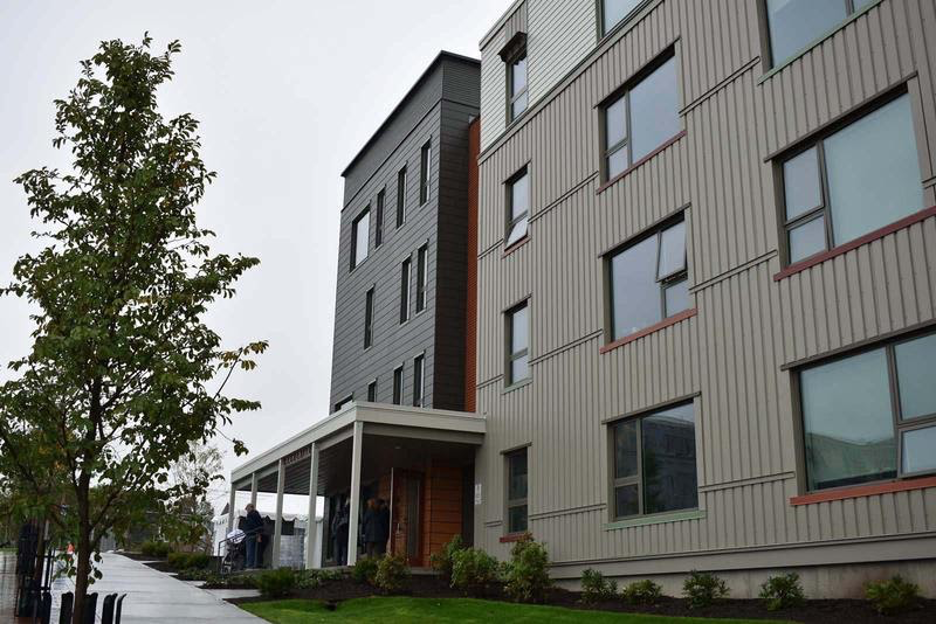 Laurentide - Another Affordable Housing Building Benefitting from Thermally Broken Structural Steel-to-Concrete Connection Technology in the Cambrian Rise Development -
Image Courtesy NPR
Both Juniper House and Laurentide buildings utilize EM-BOLT technologies. EM-BOLT Boltable Embed Plates lower construction costs and reduce project timelines by freeing welding resources up for other, more important work. Bolted steel-to-concrete connections are fast to make and as, or more, reliable than welded steel-to-concrete connections.
Bolting steel-to-concrete connections vs. welding enable thermal break materials to be incorporated into the connection. This design advantage maintains the construction efficiency advantages of the boltable embed plate concept, while helping owners, designers and structural engineers to work together to significantly improve the building energy envelope. This innovative steel-to-concrete connection technology enables demanding energy codes to be met, but in this case, contributes to the overall reduction in energy costs for the building occupants, making the buildings even more affordable for their tenants.
About the Team:
Owner: Cathedral Square
General Contractor: Wright & Morrissey
Architect: Duncan-Wisniewski
Concrete Contractor: SD Ireland
Steel Contractor: Jefford's Steel & Engineering
EM-BOLT Technologies Used:
A total of 280 EM-BOLT Boltable Embed Plates with Thermal Break Technology were used across these two projects.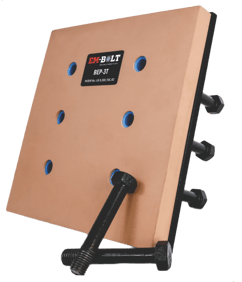 Testimonials:
"The speed and efficiency of installing EM-BOLT embed plates in the formwork greatly reduces the field labor compared to field welded weld plates, which allows us to stay on schedule with large commercial projects."
Shawn Robtoy
Field Operations Manager
SD Ireland Concrete

Get Embed Plate Engineering Calculation and Detail Design Support for Your Next Project Using EM-BOLT Products below!

Interested in learning more about the value of EM-BOLT products? Get the guide below!
Embedded plate Revit drawings of our standard series of products are also available, for Revit drawings go here.