Building owners, architects, engineers and contractors are under increasing pressure to meet stringent new energy codes, even while facing competitive markets and having to contain costs of the construction value stream.
This is causing the construction industry to rethink building design and to develop innovative building construction methods that address these concerns. At the same time, cost pressures will always be present so any construction method that can compress construction timelines and allocate labor to the best task for efficiency and cost will be pivotal.
Additionally, contractors and fabricators are always looking for ways to decrease site liability and to manage a variety of liability factors including injuries from things such as ladder falls and fire prevention.
An insulated concrete form, or ICF, is a system of reinforced concrete wall that utilizes integral thermal insulation as both the formwork and permanent thermal insulation. This type of structural system can be used for interior walls, exterior walls, floors, or roofs and can even incorporate plumbing or electrical elements. ICFs are constructed using insulated concrete form units that are stacked together and connected in a Lego-like fashion, without mortar, and then filled with reinforced concrete.
You can see how Insulated Concrete Forms are assembled and a few of the advantages here:
Courtesy Matt Risinger - Build
The first ICF was created by the Swedish company Legalett in 1983. The forms are most often constructed of polystyrene foam, but can also be made from polyurethane foam, cement-bonded polystyrene beads, or cellular concrete.
Example of an Insulated Concrete Forms Project in Process: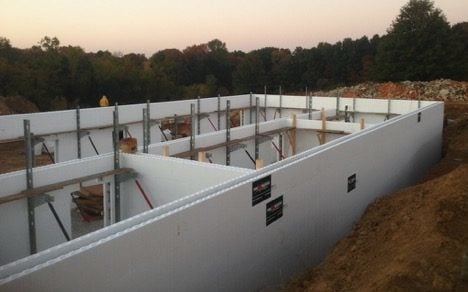 Insulated Concrete Forms (ICF) Example - Courtesy Concrete Foundations Association
ICF's provide many benefits including:
Decrease in Building Time (Reduction in Construction Costs)
Increased Site Safety (No wooden forms and hazards)
Quiet Assembly (Not using wooden forms and associated noise of assembly)
Fire Resistance - (Concrete walls have an inherent fire rating versus a wood wall that is combustible and requires sheetrock to obtain a fire rating)
Versatility
Seismic Resistance (Concrete is much more resistant to lateral seismic/wind forces)
Integral Thermal Insulation
Costs are reduced through the reduced need for labor, although the labor needs to be skilled in order to prevent cracking of the concrete, provide stable formwork and avoid other problems when pouring the concrete. The costs are usually lower than traditional methods such as steel studs. Wood studs are less expensive than ICFs, but only slightly and they do not provide the resistance to vermin and termites that concrete provides. Heat loss or gain is minimized through minimal air leaks and the insulated concrete (increased thermal resistance). Additional layers of insulation can be applied continuously to further enhance the insulation efficiency.
Insulated concrete forms are ideal for buildings that are low to mid-rising. The highest ICF building is twenty three stories high -on the higher side- in Waterloo, Ontario. They have been used for curtain wall buildings with spandrel panels, but are optimal for buildings with high amounts of solid wall with punched openings. The walls can extend over forty feet high, unsupported if assembled correctly. There are also a range of thicknesses which can go from four inches to twelve inches (they are available in four, six, eight, ten, and twelve inch thicknesses generally). The thickness used should be based on the loading applied to the wall and need for lateral seismic/wind resistance. In fact some owners select ICF construction specifically for risk management in areas where tornadoes and hurricanes are present.
There are a variety of Insulated Concrete Form systems including flat wall, grid, screen grid, waffle grid, and post and lintel.
There are also a variety of insulated concrete forms such as:
Block: Usually interlocking, similar look as concrete masonry units.
Panel: Usually used for walls, flat rectangular shape.
Plank: One side is block length and the other is panel length.
Where Insulated Concrete Form construction is being specified, it's generally to reduce construction costs, increase building envelope efficiency and maximize structural integrity.
EM-BOLT recognizes the value in ICF construction methods and that this is a growing trend for many good reasons. That's why we have developed EM-BOLT plates specifically designed for ICFs that will bring the advantages of boltable embedded plate technology to ICF construction projects.
To complement the efficiency and structural integrity of ICF's, EM-BOLT boltable embed plates provide the following advantages:
The new EM-BOLT plate will allow the Contractor to easily install the embed plate on the outside face of the ICF without the need to cut out the form to install the embed plate, hence saving time and providing a more thermally efficient system. The Contractor simply drills holes in the ICF using a template provided by EM-BOLT that matches the anchor pattern of the EM-BOLT plate and then pushes the plate into place.
Maintains the thermal efficiency of the ICF by not removing the insulated form of the ICF and hence reducing the thermal bridge at the beam connection.
Provides a bolted connection for the steel framing which speeds up the steel erection process and eliminates possible damage to the ICF insulation from heat or sparks generated by field welding.
Since the EM-BOLT plate is located on the outside face of the ICF instead of recessed to the backside of the insulation, it makes the process of erecting the beam much faster and more efficient.
The primary advantage of the patented EM-BOLT boltable embed plate is that it replaces the welded steel-to-concrete joint with a bolted connection, freeing valuable welding resources to perform other work.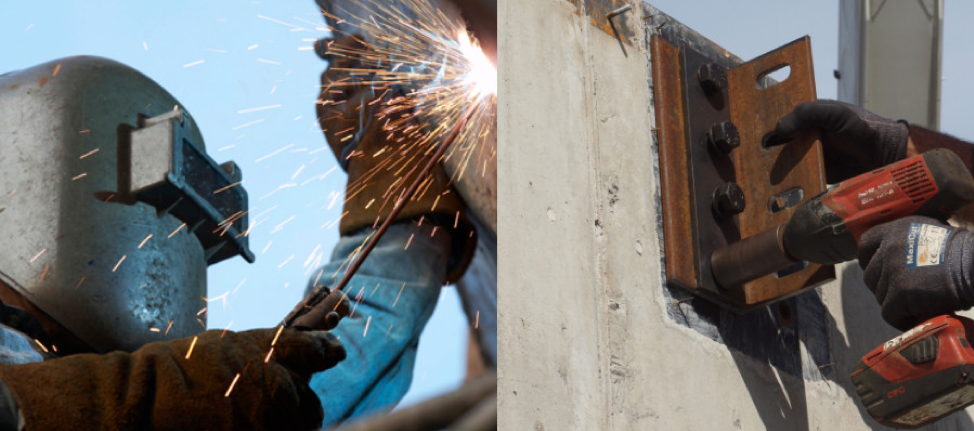 Traditional Field Welded Embed Plate vs. Innovative EM-BOLT Boltable Embed Plate
EM-BOLT is keenly aware of new stringent energy codes and designs innovative products which help designers meet these codes. A bolted steel to concrete connection enables structural loads to be transmitted through insulation systems as in the case of ICF (Insulated Concrete Form) applications.
The face of the EM-BOLT boltable embed plate enables the bolted connection. Here is shown the BEP-2 - Insulated Concrete Form Embed Plate.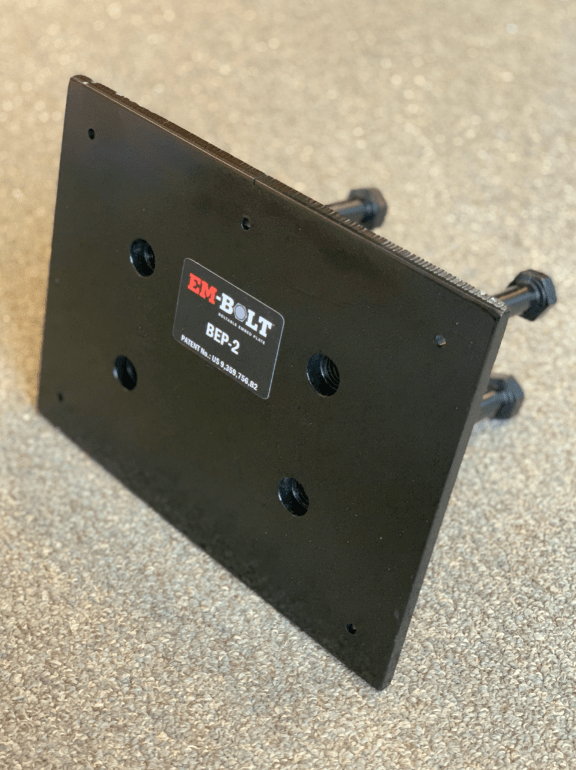 In the case of the Insulated Concrete Form embed plate, additional structural support is added which enables structural loads to be passed from the support member to the concrete through the concrete form insulation.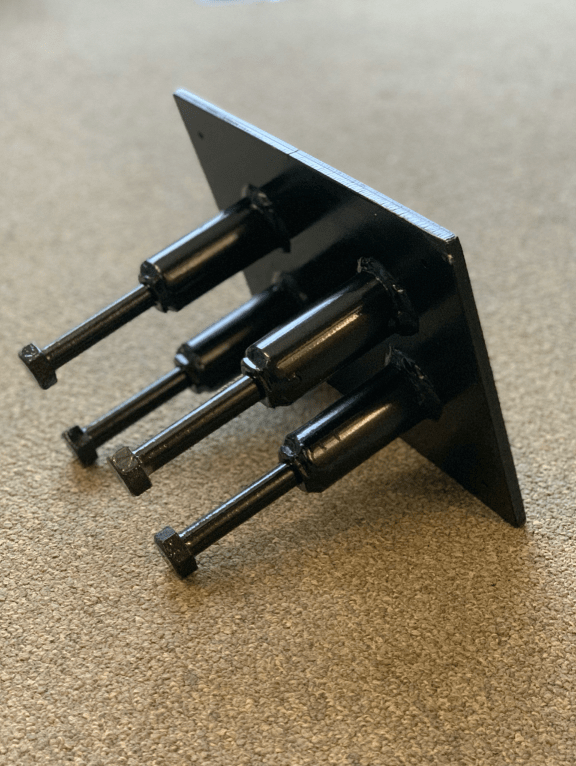 Installation is simple!
- locate beam centerline and top of steel based on structural drawings and mark on the face of ICF - align template provided by EM-BOLT and drill the hole pattern corresponding to the required EM-BOLT model with a standard hole saw - push the EM-BOLT plate through the form and attach with 1/4" bolts provided by EM-BOLT - place the concrete- erect beam and bolt to the EM-BOLT plate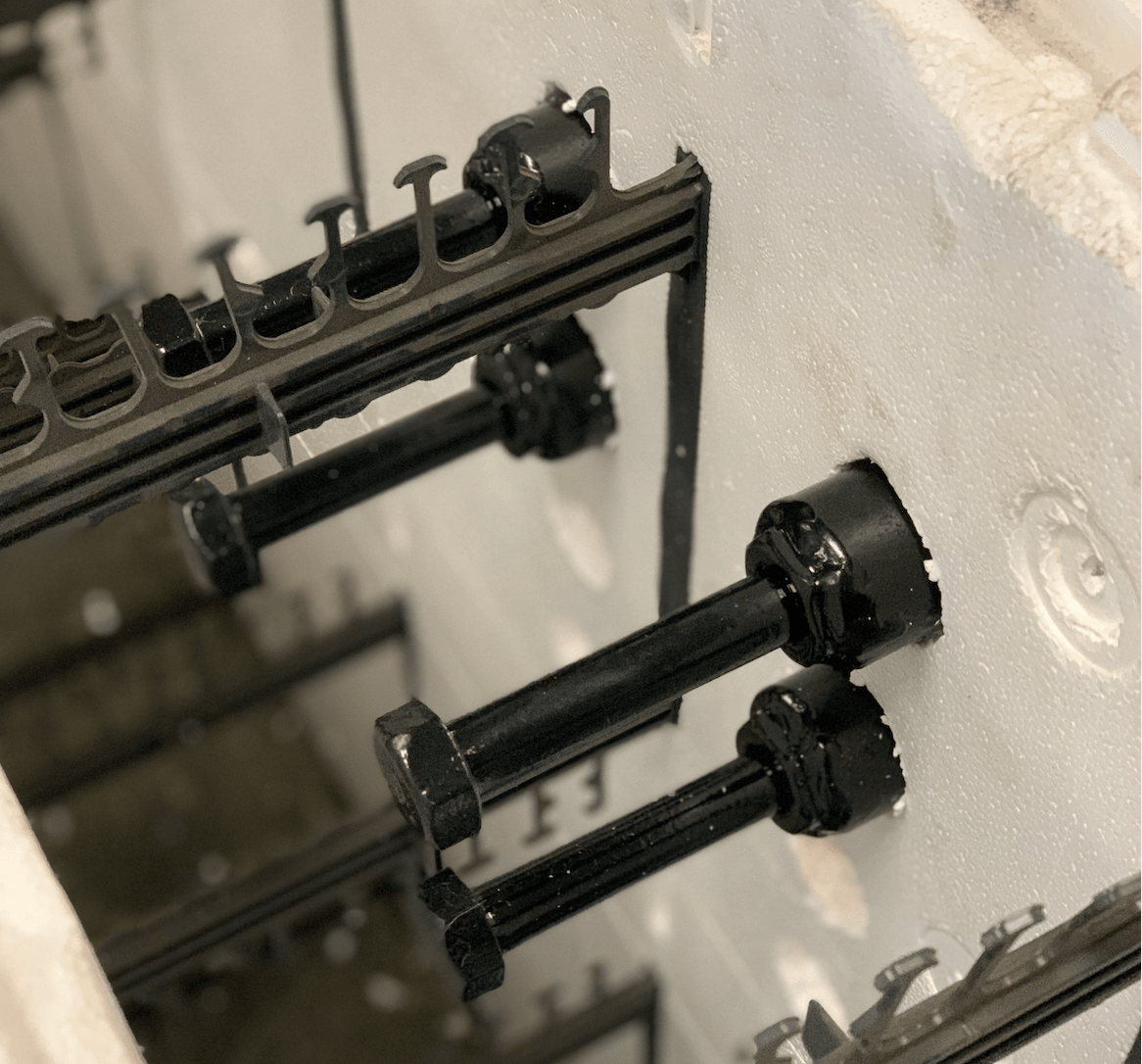 EM-BOLT Boltable embed plates reduce construction costs and timelines, freeing welding resources for more important onsite work. The design delivers maximum predictability with respect to structural integrity and by bolting instead of welding your steel-to-concrete joint, you can now insert a highly thermally resistant break into each steel-to-concrete joint, significantly reducing energy transfer and increasing overall building energy efficiency and comfort.
EM-BOLT continues to develop innovative products to adapt to the ever-changing construction industry with a focus on structural reliability, energy efficiency, simplicity and ease of use by the Contractors. To learn more about the EM-BOLT product line, feel free to reach out in the Discovery Call form above! Or contact Tim Hardy, PE via e-mail at thardy@em-bolt.com.
Additional / Related Resources:
Lowering the Costs of Tilt-up Construction
Reducing Construction Field Welding Costs
Designing Out Construction Delays with Embedded Plates in Concrete
Embedded Plate Inspection to IBC Chapter 17
Embed Plates with Concrete Thermal Break Technology Speeds Complex Building Construction
EM-BOLT Embed Plate Design - Using HILTI Profis™ Software Analysis
EM-BOLT Embed Plate Design - Using Simpson Strong-Tie Anchor Designer ™ Software Analysis
Welded Steel Embedment Plates vs. EM-BOLT Boltable Steel Embedment Plates Cost Comparison - Which is the Better Value?